Thank You!! September 21, 2018
Seventh Post– Friday, September 21, 2018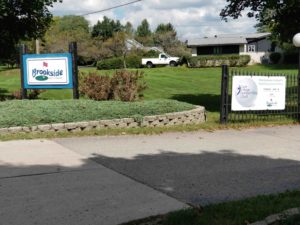 The first annual golf outing to benefit Care Village was held at Brookside in Saline this past Sunday, September 16. The entire board worked for months to pull off this event, conceived and led by Greg, who worked tirelessly alongside Keith to make it memorable, both fun and profitable. There were 34 golfers who supported the outing by playing golf on a beautiful, sunny day. Every hole had a sponsor from local businesses and individuals. Some holes had multiple sponsors. Businesses and individuals generously donated gifts for the gift bags and prize give-away, as well. There were many smiles and laughs and so much concern and giving for our cause.
After golf, most stayed for a wonderful dinner, held under the Brookside pavilion.
Mother and daughter, Eileen Drennen and Maranda Moore volunteered to decorate the tables and prepare the side dishes. The tables were beautifully decorated. My favorite extra touch was the beautiful photos of Care Village children framed on every table. The sides were elegant and delicious. The staff at Brookside was welcoming and focused on making the day enjoyable for all.
Proceeds are still being tallied, but as a result of this activity,
Care Village Outreach has surpassed its goal
of raising $50,000 to support the new school at Care Village, A La Maison!
We continue to ask for financial support to improve the daily conditions for the Care Village children. Last month, we were able to purchase a color printer for the school and office, tekkies (sneakers) for half of the children, plastic mugs for the dining hall, and a bluetooth PA system so that all the children can hear the prayer before each meal, which is typically offered by the Care Village head boy or head girl.
There are so many more needs that we hope and plan to support. Water heaters are inefficient and are failing. They are original to the buildings, which were constructed in 1984. Children's mattresses need replacing. Kitchen equipment is old and cobbled together. Sinks, showers, tubs, also original to the houses are cracking and in need of replacement. The list is incredibly long and I am very proud to say that Care Village Outreach is committed to tackling each of these items, as we are able.
Thank you to all who have supported Care Village and Care Village Outreach, whether through your donations of physical items, your financial contributions, or even more significantly, through your presence at Care Village.
To date, 52 people from Saline have visited Care Village, several more than once! Sharing your time and your love is the best contribution you can make to these amazing and deserving children.
There is a trip being planned for November 16-25, 2018 through the Saline Schools. If you feel called to join us, please reach out (bob@cvoutreach.org) for details before October 1, which is the deadline to commit.
It will change your life!