Sixth Post – Sunday, August 19, 2018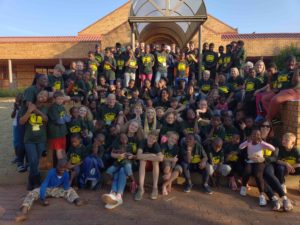 It is hard to believe that I have been at Care Village 18 days. It seems like we arrived yesterday and yet it has become such a home that it feels like we have been here very much longer. In that past ten days, since my last post, we have spent much valuable time with the children. All of the details run together. Here are some of the highlights:
The last few days with the entire mission team here were spent engaging the children in multiple kinds of activities from blowing bubbles, tutoring on homework, riding bicycles (many children had never ridden before), playing catch, flying kites. It has been so rewarding to see what a difference can be made in these lives just by spending time. Any time one of "the Americans" appears on the scene, the children stop what they are doing and run over to greet with a smile and a hug. Amazingly, they all seem to know that we are here for all of them. While we each only have two hands, the children do not fight over who gets to hold our hands as we walk together. They all wait their turn and their smile broadens when they get to put their hand in one of ours.
Church is attended by all the children at Cross Generations, just a few kilometers from Care Village. When Gerrie started as the manager at Care Village two years ago, he asked several pastors from the area if they would be able to provide a church service for the Care Village children. Cross Generations stepped up and provides a service on Sunday afternoons for the Care Village. The service is open to the public, but 90% or more of the congregation is made up of the children and staff from Care Village. It is a relatively short, contemporary style service with energetic singing that engages the children. The little ones go off to "children's church" while the older ones listen to the message by the pastor. Watching the children engage in the singing and respond to the message is inspirational to me. Even though the children are required to attend, it is clear that they look forward to it and enjoy it.
The team left for home on Wednesday. Gareth and I remain until this coming Friday. It was sad to see the others go and I know they all wish they could spend more time here. Reflecting over the two weeks with the team, much was accomplished to strengthen bonds with the children and the caregivers. They all seem to believe that we are truly here for them and that we will be for the foreseeable future. That is exciting!
Gareth and I continue to spend time with the children, but are also working around Care Village on some small projects. Gareth has some of the children repairing bicycles and some are picking up on it quite quickly and enjoy it. We want to add some touches to the recognition boards in the reception area where children are recognized for their accomplishments. We visited a local infant orphanage – a very similar situation to Care Village. The Umephi home can accommodate up to 14 infants from birth to age 2. The manager is a wonderful woman, so similar to Gerrie at Care Village in that she is so full of love for the children and devotes her life to them. We were able to acquire a wish list from her and are hoping to be able to help when we load the next shipping container in October. There is so much need here in Middelburg and all of South Africa, for that matter.
With the start of our final week here at Care Village, it is a brisk morning and the sun is shining. The week is booking quickly with all that we hope to accomplish. I have been under the weather for the past few days – either a South African bug or something that hasn't agreed with my tummy. This has given me an opportunity to reflect on the trip and the overall mission.
This visit has mirrored the previous two in getting to know the children better; their names, interests, backgrounds, and fears and spending time to develop the bonds of true relationship – trust, caring, and love. The children have thanked us more times than any of us can count – just for coming. They see our visits as much more than a reunion. They see it as a sacrifice we make for them, even though we don't see it that way. They are aware that it costs time and money and are so appreciative of it.
This visit has differed from the others in that we have had numerous opportunities to expand our reach into the surrounding community. Having now attended several Care Village board meetings and having had the opportunity to meet many people in many walks of life from the Middelburg community, I have a much better picture of how special this place truly is. I am struck by the number of people at local businesses (including the doctor's office where I have become a regular) who thank me for what we are doing for the children. Most, if not all of them have never been to Care Village, yet they are aware of the plight of so many South African children. I think that anyone who has visited here can testify that it cannot be fully understood unless it is experienced. These children are not in despair and they are not in need of anything material. Even though life here is austere, they are happy, clean, nourished, and well cared for. What is lacking for most of them is the standard family structure. They crave the kind of attention, love, and emotional stability that is normally available to children.
How wonderful that there is a large, loving family from America that can help the Care Village staff provide what these children need. I am so grateful to the 50+ people who have already visited here and I look forward to many more experiencing how simple it is to change the life of a child.