Container of Care – October 27, 2018
We loaded our second container for Care Village this past Saturday. How exciting to watch all of the furniture, bicycles, pianos, school supplies, and more being loaded into this 3200 cubic foot shipping container. Even though our forces were less than last year, we were still able to get it filled to the edge by 5pm. The only disappointment for me was that we had so many items that did not fit. No worries, we will send the rest on the next container – hopefully, over the summer of 2019.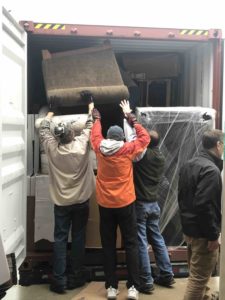 Even though it is exciting to think about all the good "stuff" that is going to the children at Care Village, even more exciting is to see how many people came together to give their love, support, and time to benefit our precious Care Village children.
We have made many new friends who have become aware of our efforts and who are now invested in helping us with our work. I must mention a few in particular:
Just like last December's container, we had the complete support from Saline Schools. Special thanks to Scot, Patti, Maranda, Joe, Rex, Chuck, and Mike who never turned me down when I asked for a favor. These people all "get it" and went above and beyond what I could have hoped. They are all extremely busy people and I never was made to feel like I was bothering them will all of my questions and requests. Thank you for genuinely caring about the children at Care Village!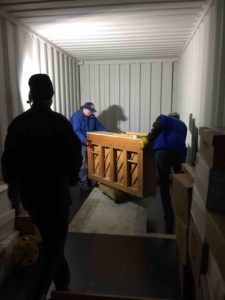 Once again, Peter and Dini, our dear friends from Ontario, Canada helped beyond measure. Dini took care of most of the paperwork and communications with the shipping company while Peter drove down for the day to offer his valuable expertise in loading. We could not have pulled this off successfully without their generous help.
Sam is a new friend who has heard about Care Village, donated funds and office supplies and put me in touch with Rob, Tim, Dave, and Susan. Rob and Tim at the Southeastern Michigan Furniture Bank heard about us and offered whatever we could fit into our trucks. I lost count, but expect that we had close to 20 sofas or sectionals, many that were brand new, still in their shrink wrappings. David donated 50 used flip-top student desks, books, toys, and more from his Avondale Elementary School in Rochester Hills and from his family. Susan offered up a beautiful bunk bed set ("double-decker" is what they are called in South Africa).
Bill from First Presbyterian, Saline worked many weeks collecting, repairing, and packing bicycles and bicycle repair supplies. Thanks to his efforts, we sent approximately 65 bicycles to Care Village, most like-new.
Karen and Lee are two friends who spent multiple days helping collect and load.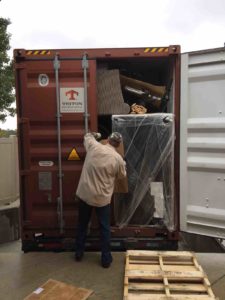 Many other church and community members spent one or more days hauling, loading, unloading, packing, and re-packing. I heard "what do you need me to do?" more times than I could count.
As our next team to visit Care Village prepares to leave November 16, I cross my fingers that this container makes a speedy trek across the ocean. While highly unlikely for us to be there when the container arrives (the journey takes from 4 – 7 weeks), I cannot wait to see all of the fruits of everyone's labor in the hands of the children at Care Village!