Thanksgiving at Care Village
The second team from the Saline Schools and the fourth team total visited Care Village, leaving Saline November 16 and returning November 25.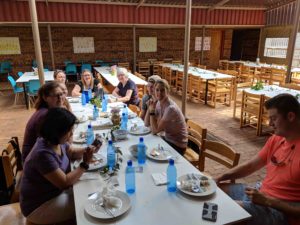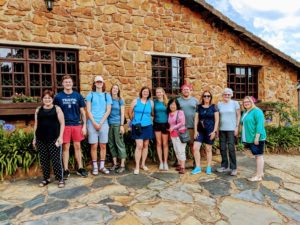 Marcy, Christina, Luke, Diona, Eydie, Su-Fen, Maranda, Cathy, Mitchell, Greg, Karen and I left with several projects in mind and accomplished much. Internet will soon be completely installed in all of the children's houses. It took much work on the part of Greg from Saline Schools to sort out the issues, take project quotes, and determine the most feasible plan of action that will allow all buildings at Care Village to be connected to the Internet affordably. Without Greg's assistance, we would still be dreaming about offering educational Internet access for the staff and children at Care Village. Instead, it appears that phase I, a totally wireless system could be operational in weeks. The final phase will replace wireless with fiber optic cable. We hope that this will be completed early next year. Care Village Outreach covered the costs to bring Greg to Care Village and to purchase the equipment necessary for the installation. Thanks to many generous donors, this dream will soon be a reality.
Even though Internet installation was a goal, of primary importance to the service team from Saline was to get to know and serve the children. I have to say that this short trip was a resounding success in this regard. Once again, with generous support from Saline Schools, the teachers were granted three days of leave to enable a 10 day trip. When traveling 9,000+ miles, nearly four days are spent in travel. That left a mere 6 days to work with the children and to find some time to see South Africa.
The days at Care Village were spent bonding with the children, showing them love, and making memories. The team spent time with the children at the A La Maison school as well, delivering examinations to students with special needs, organizing the library, and painting a classroom.  We were provided an exceptional American Thanksgiving banquet by the amazing staff here.  Although unable to locate a turkey, Gerrie found enormous chickens and the feast was beyond bountiful!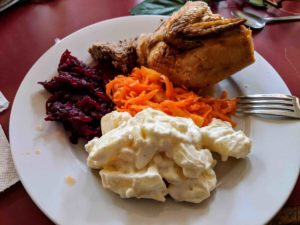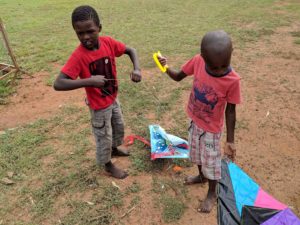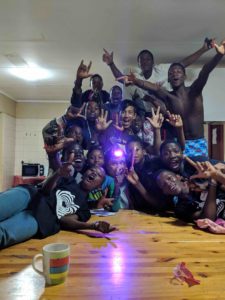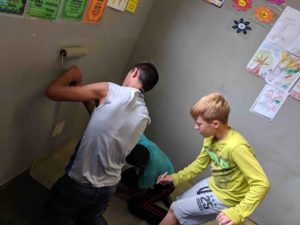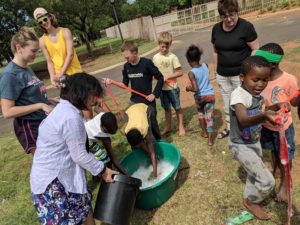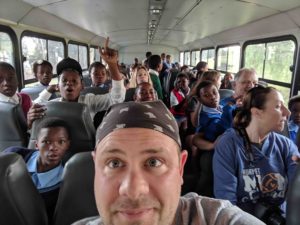 I remain at Care Village until December 6. The children are departing this week for their summer holiday. A few left yesterday and over 20 today. Some are excited to see family. Others are worried, as they have no family with whom to spend the holidays. The preparation that goes into sending the children on holiday is unbelievable to me. The staff at Care Village thinks of everything, with top priority placed on the welfare of the child. They send gifts with them, including care packages of food, provide bags to transport their belongings, give them clothing and shoes from the Care Village "store," and provide them transportation to their holiday homes – some a great distance away. Finally, a big hug and a wish for a wonderful holiday as the vans, surrounded by many of the remaining children wishing their family well, run alongside the vehicle to the gate. It is a time of much joy and some sadness.
Next week, there will be a fundraiser held here at Care Village – a Christmas light walk. Gerrie and the staff are busy with the decorations. Several community sponsors will decorate each of the buildings at Care Village. The community will be invited to walk the premises for a small fee of R20 (approximately $1.50). There will be a stage with live entertainment and food. The Middelburg community is buzzing about reviving this tradition of experiencing the lights at Christmas. I am excited to be a part of it – will be providing some carols on the piano alongside Care Village Head Boy, Lebo.
I close with gratitude for the (now) 81 people who have given of their time and love to visit Care Village in the past 15 months, some more than once, some more than twice! "The Americans" have created a permanent and lasting place in the hearts of the children and staff here. Instead of hoping we will return, they know that we will return and only ask when, full of smiling anticipation for our next visit.